Derived from
None. Self-made deck here.
Healing Feds as Dr Fern by day, Hypnotising enemies as Mrs Carolyn by night.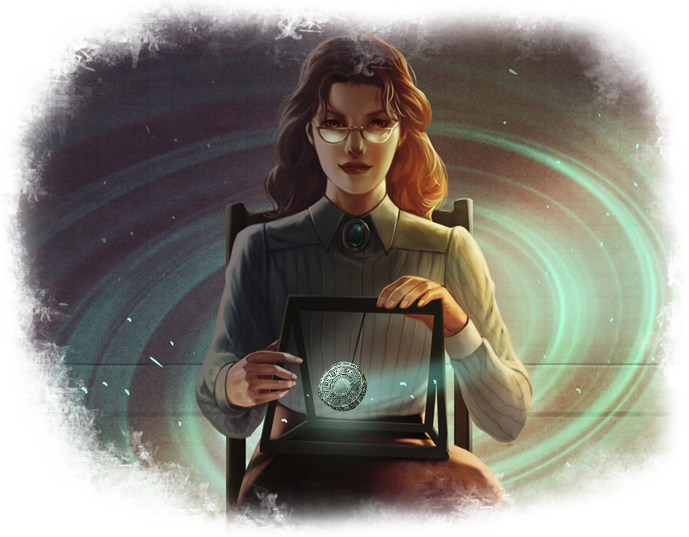 Credit: Reiko Murakami & Greg Bobrowski
---
Introduction
This deck is unique in the series as it comes with 2 builds: a campaign one and one made for standalone.
The guide addresses the Campaign Deck, using Ancient Stone - Minds in Harmony, which is a Researched card and, therefore, cannot be used in Standalone. This deck shines by how little experience it needs to start cruising.
To make sure that everyone finds what they are looking for, I created a second deck that is standalone-friendly, using Power Word (which can also be slightly repetitive during a whole campaign).
---
After the 20k Series and its success, this 30k Series will focus on the investigators that are much harder to solve. Expect some jank, some outside-of-the-box thinking and hopefully some love for the underdogs of this game.
Click here to see all the previous decks. I will keep releasing a new standalone-ready deck concept every week on Friday, so stay tuned and keep pressing the ♥ button if you want to see more!
---
Table of Contents:
Overview

Main Strategy

Your day job as a Federal Mental Health Practitioner

Employee of the Month

Standalone Alternate Deck - Your Night-job experimenting hypnosis on Monsters and Mobsters

Other Cards

Upgrade Path
---
Overview:
 
Difficulty:
★★★☆☆
Enemy Management:
★★☆☆☆
Clue-getting:
★★★★★
Encounter protection:
★★★★☆
Survivability:
★★★★★
Economy:
★★★★★
Card Drawing:
★★★★☆
---
Main Strategy:
---
Your day-job as a Federal Mental Health Practitioner:
Field Agents see terrible things at work, accumulating many clues, resulting in horrific mental traumas.

Fortunately, the Empirical Hypothesis you are testing with a Trial and Error approach gets you cards when you work with them.

Your unique hypnotic pendulum is made of an Ancient Stone designed to harmonise minds. The card heals the Field Agent directly. In group therapies with 2 Agents, the card of the upkeep provides enough draw to keep the two patients afloat.

When running out of secrets in your Ancient Stone, you can try singing Soothing Melodies to your patients to make sure that they can do their valuable work at all times.

As long as you Maintained your stone correctly, you can use a Magnifying Glass (1) to get it back into your hand, look at it properly, get your Magnifying Glass (1) back and play the Stone again with all its secrets.

Over time, a Trust relationship will evolve, allowing your team to take on more burden on their field trips.

This trust evolves into a totem for your team in the form of a Tarot Card.

Sometimes, Inspired by your field Presence, your team can work twice as hard on a particularly difficult situation.

Thanks to all your first-hand, on-the-ground information, you can participate actively in the resolution of mysteries with a basic 6 .

---
Employee of the Month:
Skills:
This deck comes with a lot of heavy skills. These are here to crush the Ancient Stone (1) test on scenario 1.

I double-checked, and every campaign opening scenario of the game comes with at least a 4-shroud location, meaning that we can achieve 7 secrets easily.

After the Ancient Stone (1) mega test, all these cards can be committed to your teammates or to pass any scenario test the game throws at you, including treachery tests.
De-cluttering the board:
With all the money earned from your job, you can pay for some Fireworks and lift the mood of the whole city at once.

Do not forget to Sooth any damage caused by your pyrotechnic enthusiasm.
---
Other Cards:
Further Upgrades:
Ever Vigilant is an excellent way to compensate for what is maybe the only downside of the deck: set-up.

This deck runs out of upgrades surprisingly early, so I thought it was the perfect moment to appreciate the incredible artwork of the Tarot cards coming with Observed.

Upgrading to Dynamite Blast and Fearless (2) is of lower added value, but if there is xp, why not...
---
Standalone Alternate Deck - Your Night-Job Experimenting Hypnosis on Monsters and Mobsters:
Credits: Reiko Murakami
Click here to get the link to the Standalone deck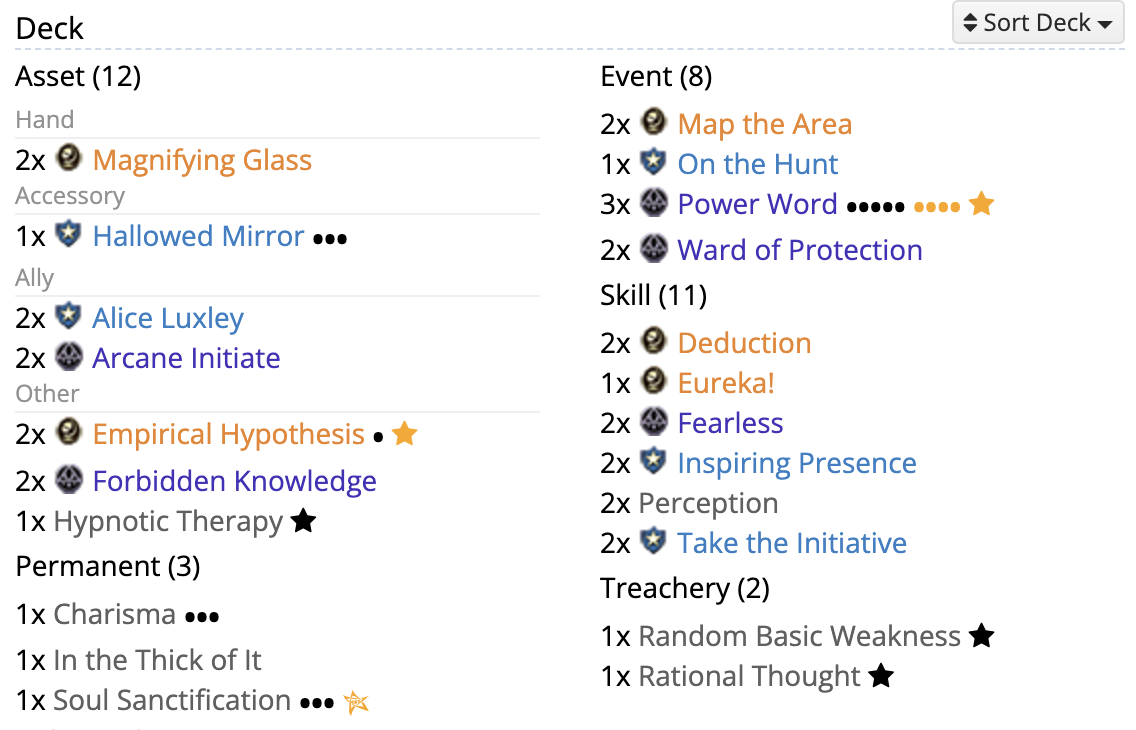 32xp version:
It is possible to take one more basic weakness for more raw power:
Upgrade the 2 On the Hunt (3) to pick your minions in the whole encounter deck.

This leaves you with 4xp available, which you can spend in Martyr's Vambrace to protect your whole team, as you can pass literally any treachery test with your infinite Soul Sanctification offerings.
Here's another decklist by @Providence using the same approach if you want to see a much better write-up about this build.
---
Upgrade Path:
---
---
---
---
To create your own guides, find the template I have created here