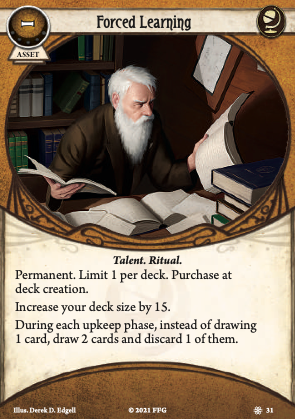 Other people are writing interesting analysis and ideas. I have something different for you all to consider. Let's take a look at 3 notable permanents that we can combine to create the dumbest build in the world.
Now why are doing this you may ask? Wonderful question, but I'll need to bring up an important ruling first. Crystallizer of Dreams has a clear ruling in its interaction with The Painted World that says that forced abilities take priority over other replacement effects.
Now let's consider Patrice Hathaway. By using Versatile to bring in Forced Learning (thanks to the xp from thick of it) we are able to replace Patrice's signature ability with "Draw 2, Discard 1". You'll also have a 62 card deck size. To be clear, this is not a good idea, but it is hilarious and does allow you to laugh at both the watcher and much of the Dunwich encounter deck. If you actually decide to do this, please let me know and let me see your deck because I am sure it will be amazing.